Friday, February 28th, 2014
Avi Shafran, a spokesman for Agudah Israel, wrote an essay for the Forward complaining, with some justification, about the use of the term "ultra" as applied to the branch of Orthodoxy he speaks for. Ultra implies "over the top," he writes. And while "haredim" (preferred, but still problematic in his eyes) like him are distinct in their dress, interpretations of tradition, relationship to Israel, and attitude toward contemporary culture and education, that doesn't make them "ultra" anything:
Okay, I know, we are different. I don't mean to challenge that sociological  truism. But our differentness reflects only our fealty to the Judaism of the ages. That makes us Orthodox, not "ultra" anything.
But you see what he did there? He essentially defined Jews like him as the norm or the paragon of Orthodoxy. That won't sit well with people who consider themselves Orthodox, but "Modern" — that is, more willing to embrace secular higher educations, more willing to partake of popular culture, are fervently Zionist, less distinctive in their dress, and less insulated in their communities and workplaces than the haredim. So that's not going to work either.
Forward editor Jane Eisner defends her use of "ultra," saying it's not pejorative but a shorthand for a very real and necessary distinction within Orthodoxy and between the haredim and the rest of Jewry:
There is great value in referring to people and communities the way they refer  to themselves. There is an even greater value in presenting the complex Jewish  world as accurately as possible. Unless a better phrase is found, ultra-Orthodox  remains.
So what might be a better phrase? My newspaper uses "fervently Orthodox," which is better than "ultra" but still suggests that Modern Orthodox Jews are somehow more blasé about their observance. I try to quickly get to "haredi" (the word implies "trembling before God") for clarity.
I wonder what an outsider might call the haredim, who, among other things cited by Shafran, "tend to shun higher secular education… partly because our intellectual  ideal lies in Talmud study rather than in the humanities or sciences, and partly  because university life is far from consonant with our moral values."
How about "Pre-Modern" Orthodoxy? I'm not trying to be funny or insulting. As one academic defined it,
The primary epistemology of the premodern period was based upon revealed knowledge from authoritative sources. In premodern times it was believed that Ultimate Truth could be known and the way to this knowledge is through direct revelation. This direct revelation was generally assumed to come from God or a god.
Nicholas F. Gier, Emeritus Professor of Philosophy at the University of Idaho writes that the "premodern vision of the world is one of totality, unity, and above all, purpose," which should please Shafran.  Continues Gier:
These values were celebrated in ritual and myth, the effect of which was to sacralize the cycles of seasons and the generations of animal and human procreation. The human self, then, is an integral part of the sacred whole, which is greater than and more valuable than its parts. And, as Mircea Eliade has shown in Cosmos and History, premodern people sought to escape the meaningless momentariness of history (Eliade called it the "terror of history") by immersing themselves in an Eternal Now.
Not bad, right? "Escape the meaningless momentariness of history" would make a great haredi T-shirt, if haredim wore T-shirts. (Or "generally" wore T-shirts; Avi reminds us that haredim are "a variegated bunch.")
The big drawback is that "pre-modern" sounds like "medieval" or "backward," although my point is only to locate the haredim in a definition of their worldview according to terms they would agree on. And here are the advantages of "pre-modern," from the haredi perspective: it implies their form of Judaism pre-dates all the other innovations, gives them primacy over the "Modern" Orthodox, and suggests, as many haredi Jews are wont to do, that modernity –  especially as manifested in the humanities or sciences – undermined Torah values.
There is even a handy chart to the great epochs in philosophical history. Which kind of Jew are you?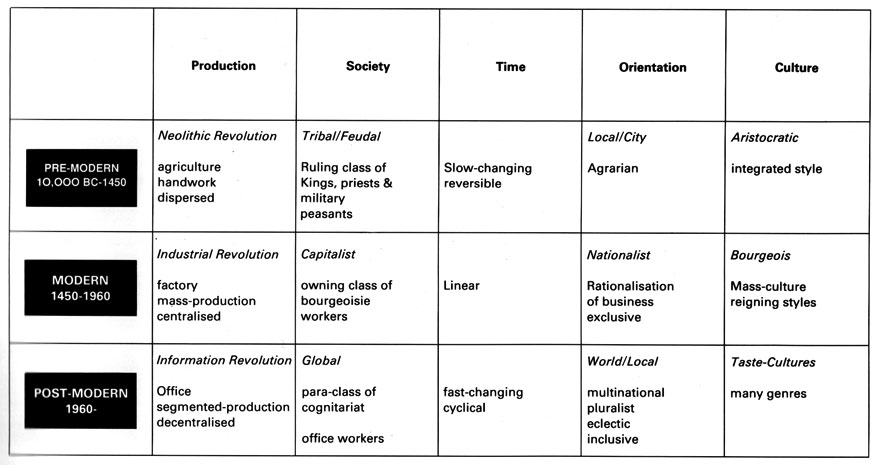 ,