Elli Wohlgelernter contributed this personal and touching tribute to the late, great sportscaster, Bill Mazer for the New York Jewish Week. Thanks to my Facebook friend Rob for the link.
I love baseball's annual winter meetings. Would love to go one year just to hang out. So much going on, such excitement. Josh Lewin, who so ably manned the radio both for the NY Mets this year, wrote about the heady atmosphere in his 2005 book, Getting in the Game: Inside Baseball's Winter Meetings.
Of course, a major deal involving a MOT has already taken place, with Ian Kinsler being traded from the Texas Rangers to the Detroit Tigers. And let's not forget Brad Ausmus being named to manage that tea, a big deal as well.
Nevertheless, this has to qualify as a surprise: Scott Feldman signed a three-year $30 million deal with the Houston Astros. I wonder how many times he'll be followed on the mound by Josh Zeid, assuming, of course, the Zeid, who will enter his second year in the big leagues, is on the Astros roster in 2014.
I'm glad that Feldman, who will be 31 in February, is returning to the National League. He's a pretty good hitter, "for a pitcher."
And look for the Mets' Ike Davis' name to be bandied about during the meetings.
The San Jose Sharks (19-6-5) lost two games in a row for the first time this season. On Friday, they dropped a 5-3 decision to the host Carolina Hurricanes. Jason Demers took three shots on goal and had one assist in 18:23. Mike Brown was a scratch. Yesterday the Sharks lost, 3-1, to the host Minn. Wild. Demers took two shots in 17:49. And the decision was finally made to put Brown on the injured reserve list with a lower body ailment (not very specific, those NHLers). In a story on the San Jose Mercury website, Brown said, "I think it's just something that happened over time. I'm not sure. I think it's a quick fix, I hope it's a quick fix. I guess we're going to figure something out when we get home. It's all we can do now."
Eric Nystrom scored his fifth goal of the year in a 5-2 Nashville Predators loss to the host Washington Capitals on Dec. 7. He took two shots on goal in 16;23. Nashville is 13-14-3.
Michael Cammalleri notched an assist but it wasn't enough to help the Calgary Flames in their 3-2 loss to the visiting Colorado Avalanche. He also took three shots on goal in is 20:48 ice time. The next day he attempted four shots in 17:11 in the Flames' 2-1 overtime win against the host Edmonton Oilers. Calgary is 11-14-4.
Jeff Halpern and the Phoenix Coyotes (16-8-5) lost, 3-2 in overtime, to the host Vancouver Canucks on Dec. 6. Halpern took two shots on goal in 5:46.
Omri Casspi and the Houston Rockets won two games over the weekend to improve to 15-7. On Dec. 6, Casspi played 17 minutes off the bench in a 105-83 over the visiting Golden State Warriors. He had two points, grabbed two rebounds, stole one ball, and made one assist. Two days later, in a 98-88 win over the visiting Orlando Magic, Omri came off the pine for 23 minutes, contributing six points, six rebounds, and an assist.
Casspi, that nice Jewish boy, brought his mom to the White House Hanukka celebration last week.
Gal Mekel and the Dallas Mavericks beat the host Portland Trail Blazers on Dec. 7, 108-106 at the buzzer. Mekel played 12 bench minutes with seven points, one rebound, and two assists.
Jordan Farmar is still out for the 10-10 Los Angeles Lakers with that hamstring injury, but guess who's back? Kobe "I wouldn't mind being Jewish" Bryant. The Lakers lost to the visiting Toronto Raptors yesterday, 106-94.
The snow was snowing, the wind was blowing, but I weathered the storms, snug and cozy in my living room. What a fun day to watch football. I'm sorry, but –from afar at least — I much prefer watching the game played in poor conditions. Yeah, I know, you don't want that affecting the outcome of a game, but come on, don't you love hearing how cold it is, or being barely able to see the action because all the snow is flying around? THAT takes skill (and luck). Best game of the day for maximum weather enjoyment: the Philadelphia Eagles beating the Detroit Lions, 34-20.
In what was destined to be a major upset, the Cleveland Browns (4-9) were leading the host New England Patriots, 19-11, at the end of three quarters. With less that two minutes, they were still up, 19-14. But Tom Brady led an improbable comeback and the Pats (10-3) scored two touchdowns (and extra points) in the final 61 seconds to take the game, 27-26. Defensive back Nate Ebner, the "newest" JFLer, assisted on one tackle as a member of the special teams unit. He appeared in 27 plays in that capacity (87 percent). Mitchell Schwartz played the entire game at guard (74 plays).
Brother Geoff Schwartz made his third consecutive game start for the Kansas City Chiefs (10-3), who beat the host Washington Redskins, 45-10. He appeared in 48 offensive plays (76 percent) and another nine (29 percent) on special teams.
The Tampa Bay Buccaneers (4-9) beat the visiting Buffalo Bills, 27-6, for their third win in their last four games. Erik Lorig made the game start at fullback. He was targeted once with no receptions. He was on the field for 42 plays (64 percent) plus another 16 (50 percent) on special teams. Gabe Carimi subbed in as a tackle and guard. He appeared in 16 downs (24 percent) plus five (16 percent) on special teams.
The injured Taylor Mays' Cincinnati Bengals (9-4) beat the visiting Indianapolis Colts, 42-28.
Adam Podlesh and the rest of Marc Trestman's 6-6 Chicago Bears host the Dallas Cowboys tonight.
Ryan Kalish, who disclosed his Jewish identity in an unusual manner a couple of years back, has been released by the Boston Red Sox. Kalish made his debut in 2010, appearing in 53 games, batting .252 with four home runs and 24 RBI. He spent 2011 in the minors, returning to the Major League roster in 2012. Injuries have been his downfall; he missed almost all of this past season following shoulder surgery.
According to this story by Alex Speier on WEEI.com, Kalish
who on Monday became a free agent after the Red Sox declined to tender him a contract in order to free a spot on their 40-man roster, said on Monday night that he felt only gratitude towards the organization that drafted him in 2006 and with whom he'd spent his entire professional career. While Kalish said that he didn't know what to expect from free agency, he suggested that he would keep an open mind regarding the Red Sox.
In a separate story, Speier ponders "What now for Ryan Lavarnway? A look at his uncertain Red Sox future," made so by the signing of veteran catcher A.J. Pierzynski. The Sox already have David Ross at backstop.
Ryan Braun might be looking at baseball from a different perspective: right field. The Milwaukee Brewers traded Norichika Aoki to the Kansas City Royals, so it looks like Braun will slide over. In the pros, this is a compliment, unlike Little League where the cliche goes you stick the worst player.
Since Hank Greenberg's uniform number 5 has been retired by the Detroit Tigers, Ian Kinsler will wear number 3. The newest addition to the team met with the media earlier this week.
Former NY Mets star Howard Johnson still believes Ike Davis "can be a hit."
And honeymoon in Vegas, this is not. NY Mets infielder Josh Satin tweeted this picture from his post-wedding trip, via Mets media chief Jay Horwitz: "On his recent honeymoon to Thailand,Josh Satin and his wife Allyson each purchased an elephant for a day."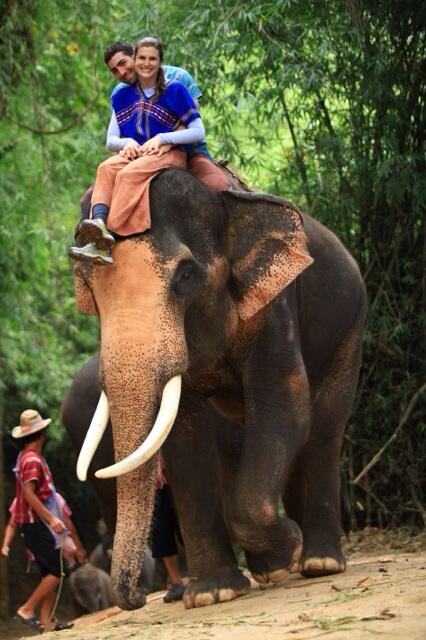 Only three games last night, none included any of the three MOTs.
On tap for tonight:
Omri Casspi and the 13-7 Houston Rockets host the Golden State Warriors.
The Los Angeles Lakers visit the Sacramento Kings without the services of Jordan Farmar, who will miss the next several weeks as he recovers from a hamstring injury.
Casspi visited the White House where he took part in the annual lighting of the "presidential" menora.
Casspi does not appear in these videos, but I'm posting them anyway.
Jason Demers took four shots on goal as the San Jose Sharks (19-4-5) lost to the host Pittsburgh Penguins, 5-1. Mike Brown was a scratch for the game.
Eric Nystrom was on the ice for 9:59  as the Nashville Predators (13-13-3) dropped their game to the visiting Carolina Hurricanes, 5-2.
On tap for tonight:
Demers, Brown and the Sharks @ Carolina
Jeff Halpern and the Phoenix Coyotes @ Vancouver Canucks
Michael Cammalleri and the Calgary Flames host the Colorado Avalance
The International Jewish Sports Hall of Fame, located in Netanya, Israel, has named the inductees for the class of 2014.
Among the honorees:
SHAWN GREEN and BUD SELIG, Major League Baseball
RUDY LARUSSO, NBA
AL DAVIS, NFL
MATHIEU SCHNEIDER, NHL
JERRY IZENBERG, sporstwriter and author
WALLACE "WALLY" WOLF, Olympic swimmer
BRIAN TEACHER, tennis champion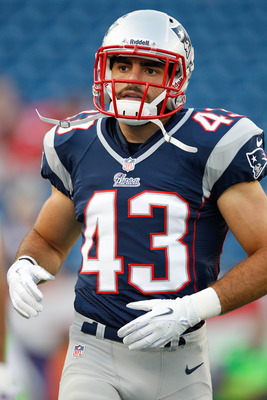 Shalom to Nate Ebner, a second-year defensive back for the New England Patriots.
I first learned about Ebner through JewishSportsCollectibles.com, which did a lot of investigating. I further put the question to my go to guys: Sheldon Wallman and Ephraim Maxon, who run the Jewish Sports Review, and Bob (Day by Day in Jewish Sports History) Wechsler.
Long story short, the 24-year-old Ebner is the newest JFLer.
Ebner's father was, tragically, killed in a robbery a few years back. Jeff Ebner a former member of Temple Shalom in Sopringfield, Ohio, where he was also a Sunday school principal.
Nate, who played rugby and football at Ohio State University, was the subject of this profile piece:
So far this year, Ebner has appeared in 11 of the Patriots' 12 games. He has three solo tackles and assisted on five others. He also recovered a fumble off a botched punt return that lead to a 34-31 overtime victory over the Denver Broncos on Nov. 24, which resulted in this glowing profile piece on SI.com.
But — circle of life — we've "lost" Brian De Le Puente, center for the New Orleans Saints. Turns out his bloodlines are too thin to be considered as a MOT.