I don't get into Manhattan much any more. Maybe it was all those years commuting into the city first from Brooklyn, then from northern New Jersey, for 20 years that killed the thrill for me. But once in awhile I make an exception. Like a couple months ago when I met Marty Appel for a chat and chew at Mickey Mantle's restaurant. Appel seems to have a finger in every pie — the Jewish Major Leaguers card set, baseball in Israel, and a forthcoming documentary about the history Jews and the national pastime, not to mention his own biography about Thurman Munson, who died 30 years ago when he crashed his plane while practicing takeoffs and landings.
In a few weeks, I'll be schlepping in again to meet Andy Strasberg, co-author — with Bob Thompson and Tim Wiles — of Baseball's Greates Hit: The Story of Take Me Out to the Ball Game. He's working on a new and interesting project, one that's a cross between a social network and an extended family photo album. Strasberg wants to collect baseball snapshots and stories from average fans (i.e., no professional stuff) with the idea to put them on a website as well as publish in a book.
So I thought I'd maximize my efforts and see if I couldn't set up a sit down with Howard Megdal, author of The Baseball Talmud. Unfortunately, that one his "fantsay Fridays," when he does his thing for Rotoworld, an ersatz baseball outlet. He suggested meeting for the Mets game in which the 1969 players will be feted. I told him I expected the crowd would skew much older than normal for that promotion. With the way the team has performed this year, his response, which is fated to be included in some baseball quote book some day:
"They keep playing like this, the crowd will skew staying home."
On a similar vein, the Mets used to hold a popular event called banner day. Fans wrote creative slogans and made amusing illustrations on bedsheets and posters and paraded them on the field at Shea Stadium, usually between games of a single-admission doubleheader (kids, ask your parents).
The team no longer hosts that event perhaps for security reasons, but a few days ago The New York Times asked readers for suggestions about banners they would have if the promotion was still around. Here are some of the results, which would make for an interesting First Amendment discussion.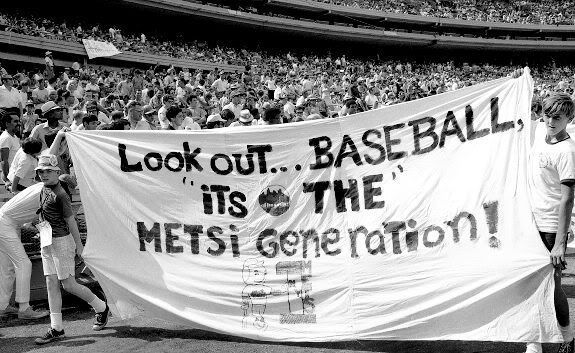 ---