Abe Pollin, owner of the NBA Washington Wizards and a staunch supporter of Israel and Jewish charities, died yesterday at the age of 85.
According to this item from JTA,
Pollin changed the name of his basketball team from Bullets to Wizards as a statement against gun violence after the assasination of his longtime friend Israeli Prime Minister Yitzhak Rabin.
* * *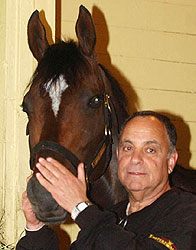 Bobby Frankel, who rose from the streets of Brooklyn to become one of the most successful and respected trainers in the history of thoroughbred racing, died Nov. 16 from complications due to lymphoma. He was 68.
---