A collection of recent links and items that fell between the cracks.
♦ Ladies and gentlemen, you're next great JML? Jewish Baseball News conducted this interview with Danny Rosenbaum, a pitcher in the Washington Nationals organization. Rosenbaum is a member of the AA Harrisburg Senators. He has won five if his seven starts with two complete games (0.71 ERA). In 50.2 innings he has walk only four batters and given up 32 hits while striking out 33. Seems like he'd make a fine addition to the Nats' pitching staff which is already tops in the Majors in ERA (2.89), strikeouts (322), and third in quality starts.
Earlier this year, JBN posted this interview with Eric Berger, a pitcher in the Cleveland Indians system. Berger began the season with the AA Akron Aeros before being promoted to the AAA Columbus Clippers. He won in his last start, giving up one earned run in six innings of May 14 against the Pawtucket Red Sox (prior to Kevin Youkilis' rehab arrival).
♦ The Mets are promoting 'T-Shirt Tuesdays." This one features Lucas Duda. Wonder if there will be one for Ike Davis?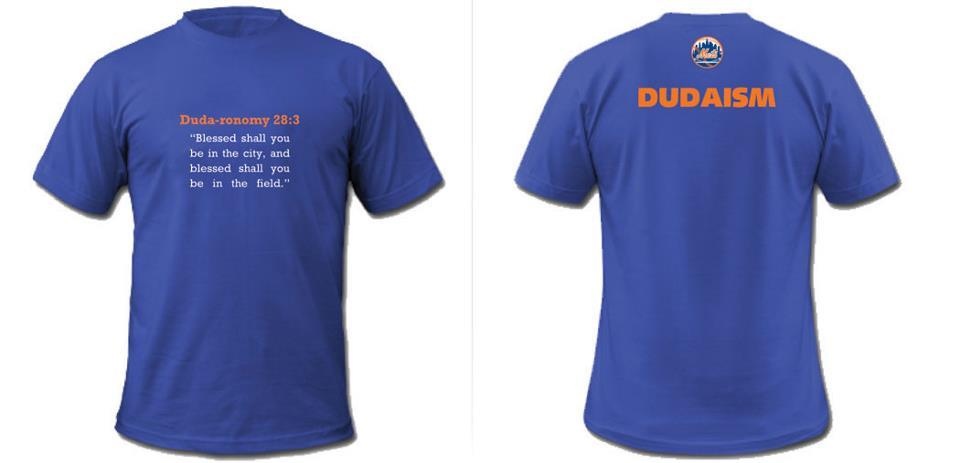 ♦ The Great Rabbino offers this list of the 10 "best" Jewish owners. I don't know what the order represents, but I'm hoping it's either random or worst to best because the Redskins' Dan Snyder, who leads off, is generally excoriated by the locals.
♦ Marc Tracy over at Tablet gave us this photo of a Yankees' fan clad in a questionable jersey. I'm curious about the apologists who left comments.
♦ Regular KK readers know I'm not a big soccer guy, but this one's for you guys who are.
---