Taking the day off tomorrow so I thought I'd leave y'all with a little mish-mash of various items that have been cluttering up my various RSS feeds.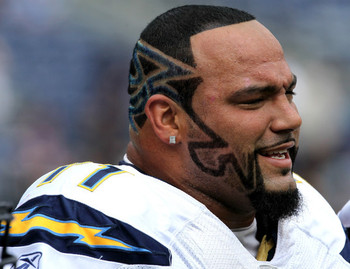 Are you ready for some football? Me neither. It's frakkin' 98 degrees out there! But here are a couple of interesting/nice stories, including the Schwartz Brothers — Geoff and Mitchell — are the first Jewish brothers to play in the NFL since 1923 (that's assuming that Mitchell makes the Cleveland browns, who drafted him in the second rund).  Adam Podlesh and Antonio Garay participated in separate fundraising activities. Podlesh's Bears teammate Gabe Carimi is trying to come back from surgery that kept him out almost all of last season. And for all his good works, there's little arguing that Garay, right, has one of the worst haircuts in pro sports. Discuss.
Speaking of worst, on a slightly more serious note, Omri Casspi was selected as the Cleveland Cavaliers' "most disappointing players" in a Bleacher Report entry. Not exactly something for which you want to be a "chosen person."
The Olympics are just around the corner and the IOC issued this warning: "a refusal by any participant in next month's Games to compete against an athlete from a particular country is against the IOC's Code of Ethics." Remember when ethics in sports used to mean something?
Israeli tennis star Shahar Peer lost to Dominika Cibulkova of Slovakia in the second round of the UNICEF Open in the Netherlands.
---