The Trenton Thunder, AA affiliate for the New York Yankees, will host their fifth annual Jewish Heritage Night on Tuesday, July 31 at 7 p.m. The game against the Altoona Curve (Pirates) will feature "Kosher food, music and a celebration of all things Jewish," according to the team's website.
As an added bonus, NJ Jewish News will be there! And word has it that I'll be throwing out the ceremonial first pitch — or my back, whichever comes first.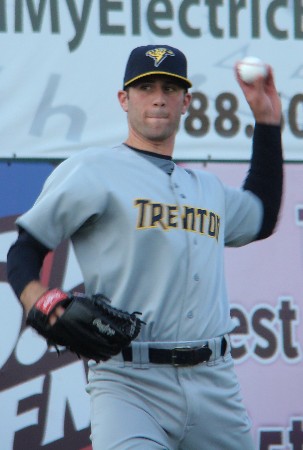 The Thunder has a MOT on their roster, although Jeremy Bleich, a left-handed pitcher, is currently on the seven-day disabled list. After missing all of the 2011 campaign, Bleich has s appeared in three games for the Gulf Coast Yankees, and one more for the Staten Island Yankees. He was selected by Baseball America as one of the NY Yankees' top 30 prospects in 2011, pulling down a reported signing bonus of more than $800,000.
More on Bleich.
For more information, visit the official Thunder website.
---