Pittsburgh Steelers head coach Mike Tomlin was fined $100,000 for his "inadvertant" interference in last week's game against the Baltimore Ravens. In addition, his actions might end up costing the team a draft pick.
A lot of people must have thought it was advertant.
Looking at the video, I wondered how Tomlin could know just where to stand to be in the kick returner's way. What if the Raven's guy had taken it to the other sidelines? If Tomlin was indeed watching the Jumbotron, he might have seen the running route. Because from what I've seen, it doesn't look like he moved to that spot; he was just standing there.
NBA
Omri Casspi played 31 minutes off the bench as the depleted Houston Rockets (13-7) fell to the visiting Phoenix Suns, 97-88. Casspi scored 14 points with seven rebounds, one assist, and one steal. The Rockets had five players unavailable due to various injuries.
Gal Mekel played 11 minutes, scoring three points with one assist as the Dallas Mavericks (12-8) beat the host New Orleans Pelicans, 100-97.
NHL
Michael Cammalleri and the Calgary Flames (10-13-4) beat Jeff Halpern and the visiting Phoenix Coyotes (16-8-4), 4-1. Cammalleri played 18:48 with one shot on goal. Halpern was on the ice for 10:59 and also took one shot.
Mike Brown scored the first goal for the San Jose Sharks — with an assist from Jason Demers — in their 4-2 win over the host (and his former team) Toronto Maple Leafs. Brown connected on one of four shots on net in 8:47 (and no fights!) for his second goal of the season. For Demers, who played 17:35, it was his 11th assist. Somewhere there must a database to find out which MOTs assisted on goals for their coreligionists, like Jewish batterymates in baseball, or Jewish QBs and receivers in football.
Jeff Halpern picked up his first assist of the year to help the Phoenix Coyotes beat the host Edmonton Oilers, 6-2.
Eric Nystrom played 11:51as his Nashville Predators lost to the visiting Vancouver Canucks, 3-1.
The Dallas Mavericks were trailing the visiting Charlotte Bobcats, 67-60, after three quarters but rallied to win the game, 89-82. Gal Mekel played six minutes off the bench with one assist and one steal.
The Brooklyn Nets couldn't even get a gift win during Hanukka as they lost on Jewish Heritage Night to the visiting Denver Nuggets, 111-87. Not only that, but Lawrence Frank, their former head coach now an assistant under Jason Kidd, was demoted. Great timing, guys.
It's still relatively early in the season, but other than the Miami Heat and Indiana Pacers, everyone else in the Eastern conference is playing stinko. The third place team is 9-9 and the other five in contention for post-season (the top eight in each conference make the playoffs) are a combined 40-52. By contrast, the fourth to eighth place teams in the West are 58-34. Doesn't seem fair that a sub-.500 team might make it in while a team hovering at the .600 mark would not.
The situation is so ludicrous that the hosts of Pardon the Interruption were tossing around the idea of changing the rules — just for this season — to allow more teams in the West to extend their season at the expense of the poor-playing East counterparts.
Events of the past few days have opened this discussion again: sportsmanship vs. winning at all costs.
Some call it gamesmanship: knowing the rules, bending them as much as possible, and, hopefully, accepting your lumps when things don't work out the way you had planned.
Others call it cheating.
Jason Kidd's butterfingers
Kidd, the rookie head coach for the Brooklyn Nets, is having a tough go of it. As of this writing, his team, which had such high expectations, is ahead of only the neighboring New York Knicks (similarly projected to do well) and Milwaukee Bucks in the NBA's Eastern Conference.
In the fourth quarter of their Nov. 29 game against the Los Angeles Lakers, the Nets found themselves trailing 96-94 with less than nine seconds left and no more time outs. But that didn't stop Kidd, who not-too-subtly arranged to have Tyshawn Taylor "accidentally" bump into him, causing the coach to spill his drink on the court. Naturally, they had to clean up the mess, which had the effect of giving the Nets that badly-needed TO.
You don't have to be an expert lipreader to see Kidd mouth "Hit me." (Unless he was playing a mental game of Blackjack, which is a whole 'nother issue).
I don't know if this makes matters worse, but Kidd doesn't even get points for originality; seems he picked up this bit from former Dallas Mavericks head coach Del Harris, who pulled this stunt against the Chicago Bulls a few years back, when Kidd was on the team.
Kidd was fined $50,000 for his indiscretion. His justification? He was just "trying to win."
Mike Tomlin's big feet
The Pittsburgh Steelers were trailing the host Baltimore Ravens, 13-0, in the third quarter of their Thanksgiving night face-off when quarterback Ben Roethlisberger connected with wide receiver Emmanuel Sanders on an eight-yard touchdown pass. On the ensuing kickoff, the Ravens' Jacoby Jones was on his way to a potential 100+-yard TD return. The only person standing in his way: the Steelers' head coach, Mike Tomlin.
Tomlin was way too close to the field of play (there's actually a white boundary painted on the sidelines as a delineation). He was supposedly looking at the Jumbotron (!) and did not see the runner approaching until the last second, when he jumped out of the way. Nevertheless, Jones was forced to alter his route and that was just enough to allow Cortez Allen to tackle him on the Steelers' 27 yard line.
The Ravens eventually made a field goal and ended up winning the game, 22-20, to drop the Steelers to 5-7 with barely a possibility for the post-season.
Here's an odd and amusing video recreation; look for it in next year's Madden video game. Unfortunately, the No Fun League has such a tight control on its video, I wasn't able to find a usable embed for the real action.
Did Tomlin do it on purpose? Doesn't matter; intent is not an issue. If you're standing near the line, you're gonna pay a fine. Tomlin will have his wallet lightened substantially, rumors say by as much as six figures. There was also talk about the Steelers losing a draft pick, but most pundits think that's a bit too harsh.
Tomlin's justification: Didn't ever try. He manned up and said his actions were "inexcusable."
"…[T] be honest with you, quite frankly, the winning of any game is not important enough for me to jeopardize [my integrity]."
I turned to Nets broadcaster Ian Eagle for his take on the situation. Turns out he was the perfect guy to ask since he also called the Steelers-Ravens game for Westwood One Radio.
'Throughout sports history coaches have always looked for an edge sometimes in an underhanded way, but today there are more television cameras watching their every move," Eagle wrote in an e-mail. "In the past coaches pushed the envelope just like they do today, but their actions often went undocumented. The key is whether there has been a pattern of behavior from the individual coach.  In Jason Kidd's case, he is new to the job and will certainly learn from the experience.  Mike Tomlin has built a lot of credibility as a head coach in the NFL and is incredibly well respected within the coaching fraternity."
Good point. In this digital age, it's almost impossible to hide anything.
Sorry to be so late with this, but if you don't have any plans tonight and are in the vicinity, the Brooklyn Nets are hosting their Jewish Heritage game as they take on the Denver Nuggets.
The agenda includes a pregame menora-lighting, a halftime performance by the Macabbeats, and "more."
It's always a nice sentiment, but it's too bad they couldn't have faced one of the teams that has a MOT on their roster.
I generally do not re-read books because I feel it's not a productive use of my time when new titles are coming out every day. But for some reason, I don't have the same philosophy when it comes to watching certain movies whenever they come on. A League of Their Own, about the All-American Girls Professional Baseball League, falls into this category (did you know it was also turned into a TV series? I wouldn't be surprised if you didn't; it only lasted a handful of episodes).
It was on again last night, a two hour, eight minute flick bloated to three hours thanks to commercials. And when I checked out a link to the JewishSportsCollectibles website about a "new" Jewish NFLer, I found this, so it's beshert.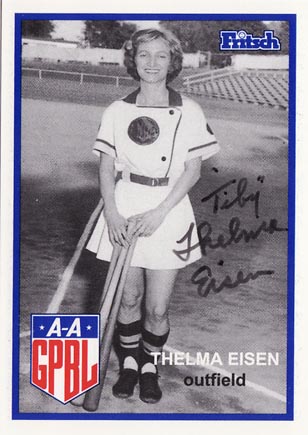 According to the site, "Three Jewish women — Thelma "Tiby" Eisen, Anita Foss, and Blanche Schachter – played in the AAGPBL. A fourth alumnae — Margaret Wigiser — is the child of an Orthodox Jewish father, although she doesn't self-identify as Jewish."
There were a few scenes of the girls in church, or wearing crosses, but no Jewish material at all, save for the Ira Lowenstein character (although league president Walter Harvey certainly sounded Jewish).
FYI, I did a profile on Tiby several years ago for NJ Jewish News.
A very light night for action for the boys.
Center Brian De Le Puente and the New Orleans Saints were treated most inhospitably by the Seattle Seahawks, who pecked them to a 34-7 loss.
Chicago Bears' coach Marc Trestman came under a lot of heat by Michael Wilbon on yesterday's Pardon the Interruption (and in this ESPN.com column) for going to a potential game-winning overtime field goal…on second down. Robbie Gould missed a 47-yard attempt and the Minn. Vikings came back to win, 23-20.
The only other game involving one of da boys was the Houston Rockets' 109-103 loss to the host Utah jazz. Omri Casspi played 30 minutes off the bench, scoring 13 points with six rebounds and two steals.
The news for Jordan Farmar is not good: Reports indicate he may miss four weeks with his hamstring injury. But you know how those things are; I think the expectations and prognoses are frequently an matter of wishful thinking.
December already? Holy cow.
Ryan Braun was back in the news recently. He participated in a Milwaukee Brewers food drive last Wednesday, which became the ire of Chris Rose on the MLB Network's Intentional Talk.
Rose took Braun to task for making the event all about Braun, who was cornered by the media, naturally, and put on the hot seat for his suspension and PED involvement.  It got embarrassing, in my opinion, the way Rose kept hammering at Braun, as if the ballplayer had called the media to come cover the event, rather than the Brewers. Rose is, supposedly, a journalist (although who knows these days); surely he doesn't think the media wouldn't ask Braun these questions. Rose's IT partner, former MLB player Kevin Millar, took a somewhat more sympathetic point of view.
Braun even accepted an dinner invitation from Dino Laurenzi, the urine collector he disparaged publicly and privately.
Is Braun the target of exceptionally harsh treatment or am I just more sensitive about him than I would be for any of the other players suspended last season? Perhaps it was because he, like Raphael Palmeiro, was so adamant about his innocence. Maks it a lot harder for any player down the road who may find himself in such a situation.
* * *
I don't know what's crazier: Braun meeting with Laurenzi, or
this guy
, who thinks
Josh Satin
should be the Mets cleanup hitter next year.
* * *